Research
HSP students are encouraged to extend their learning by including a mentored research experience in their program of study.
Given the interdisciplinary nature of the HSP major, there is no one model of what research projects should or can be. HSP students in the past have done a wide variety of creative works and research projects. Their mentors have been clinicians, lab scientists, social and behavioral scientists, community partners, and policy makers. HSP students can choose a faculty mentor in any department across campus. HSP students can engage in research at any stage of the program, but most choose to do it during their junior or senior year.
Talk to your academic advisor to discuss how you might get involved in research and how it could fulfill one of your electives in the HSP degree.
The Office of Undergraduate Research offers a number of resources and programs to help undergraduates participate in student-faculty mentor collaborative research experiences.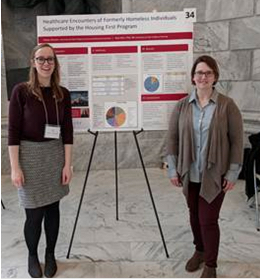 HSP student, Hailey McLean and faculty advisor, Sara Hart (Nursing) present their research at Posters on the Hill.